---
This dish is rich and luxurious. The combination of salt and sweet is just so wonderful, I love adding lots of fresh herbs and leaves to the top to break up the richness. If you don't like it so rich reduce the about of Soy Sauces by half. I also did a video for fun this time. So check out my youtube channel for more fun.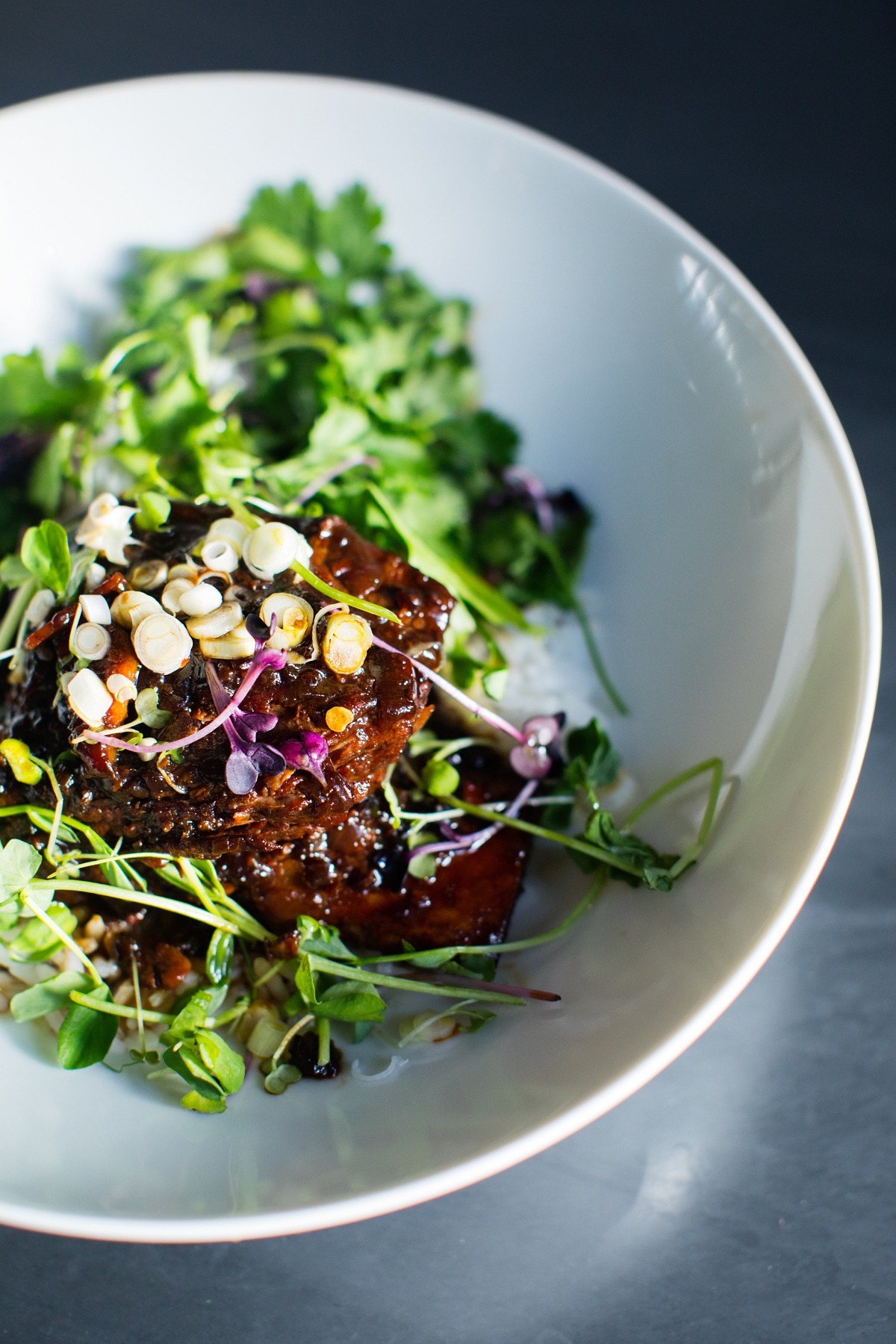 Serves 2/3
For the Slow Cooker
300g Beef Short Ribs
2 Tbsp Plain Flour
Salt and White Pepper
2 Tbsp Olive Oil
¼ cup Light Soy Sauce
¼ cup Ketjap Manis Sweet Soy Sauce
2 Tbsp Dark Soy Sauce
¼ Cup Rice Wine
½ cup Beef Stock
¼ cup Dark Brown Sugar, packed
1 Tbsp Sesame Oil
1 tsp Chilli Flake
4 Cloves Garlic, crushed
1 Red Onion, chopped
1 Tbsp Ginger, grated
For the Topping
2 Spring Onions, sliced
Bunch of Coriander
Bunch of Mustard Cress
Bunch of Pea Shoots
Sesame Oil
Crispy Onions
Sliced Red Chilli, optional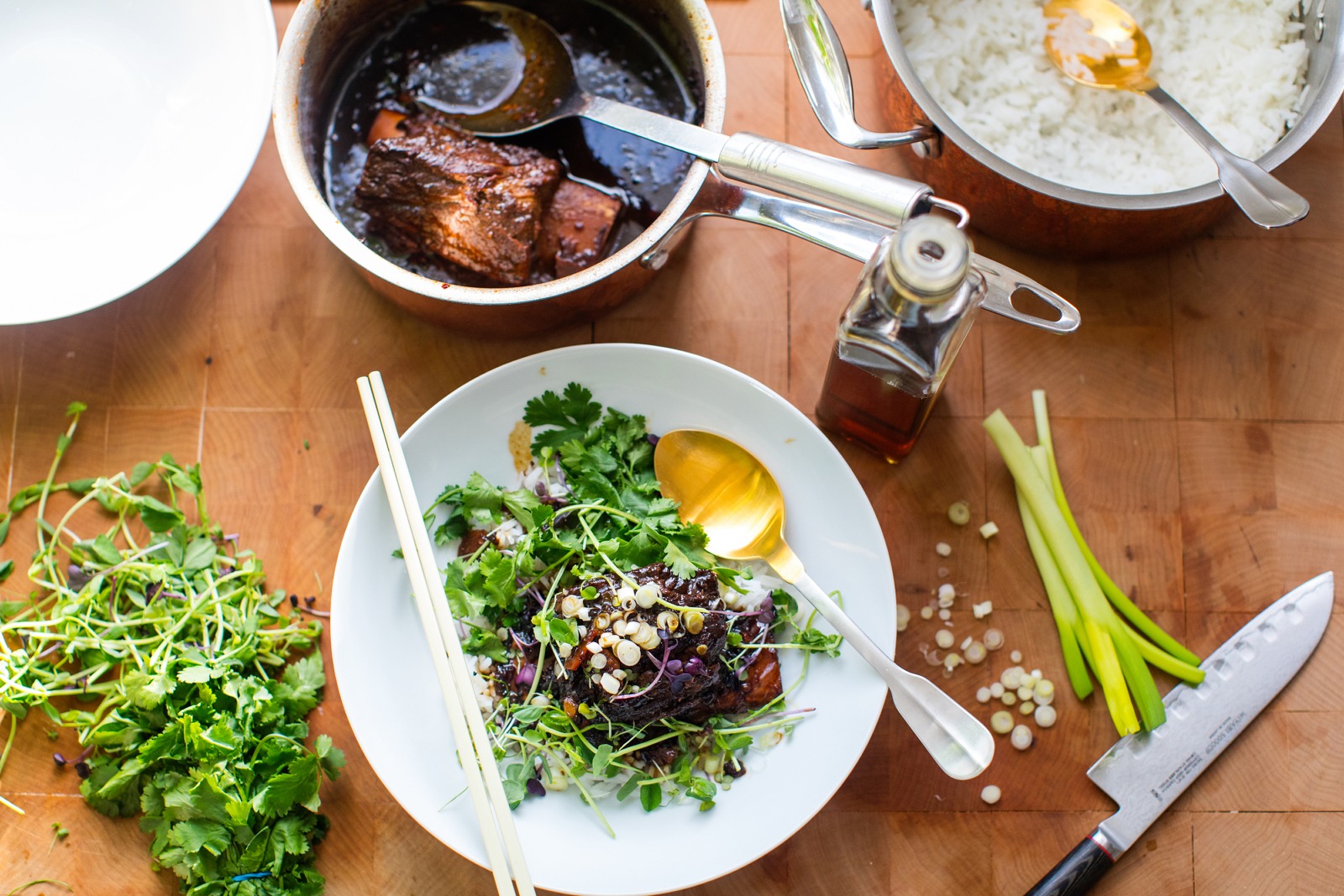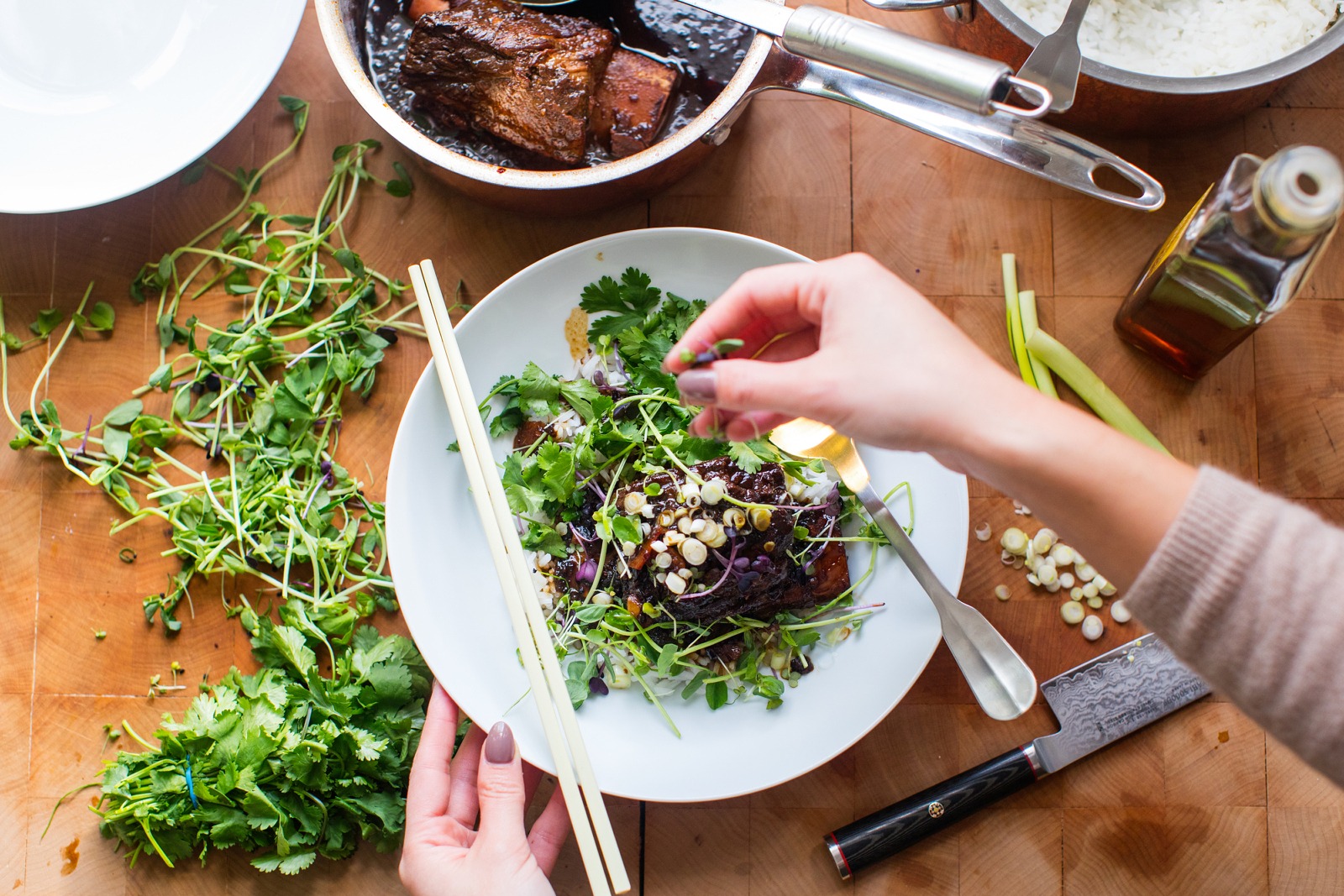 Season the Flour with Salt and Pepper. Toss the Beef in Flour coating it on all sides.
Heat the Olive Oil in a pan. Add the Beef and brown on all sides. The meat should be a dark caramelised colour all over.
Remove the meat from the pan and place in the slow cooker with the Soy Sauces, Rice Wine, Stock, Sugar, Sesame Oil and Chilli flakes.
Return the pan to the heat and add the Garlic, Onion and Ginger. Stir over a low heat to soften. Then add to the slow cooker.
Cook for 4hrs, ocassionally turning the meat to ensure it cooks on all sides in sauce.
Then allow to cool, ready for serving the next day (however you could miss this out and continue with the below steps straight away).
Remove the Beef from the sauce, transfer the sauce into a pan and bring to the boil, reduce until glossy.
Meanwhile cook your rice, and chop your toppings.
Once the sauce has reduced, add the Meat back to it, and coat it in the glossy liquid until heated through. It will be nice and warm after about 10/15mins in  the pan with the hot sauce.
Plate your Rice, add the Beef and Sauce and top with all the extras!