---
These are my favourite cupcakes ever. They are the perfect balance of sweet and tart. Much like a lemon cake they are indulgent and yet not sickly. They also really do look stunning on a plate.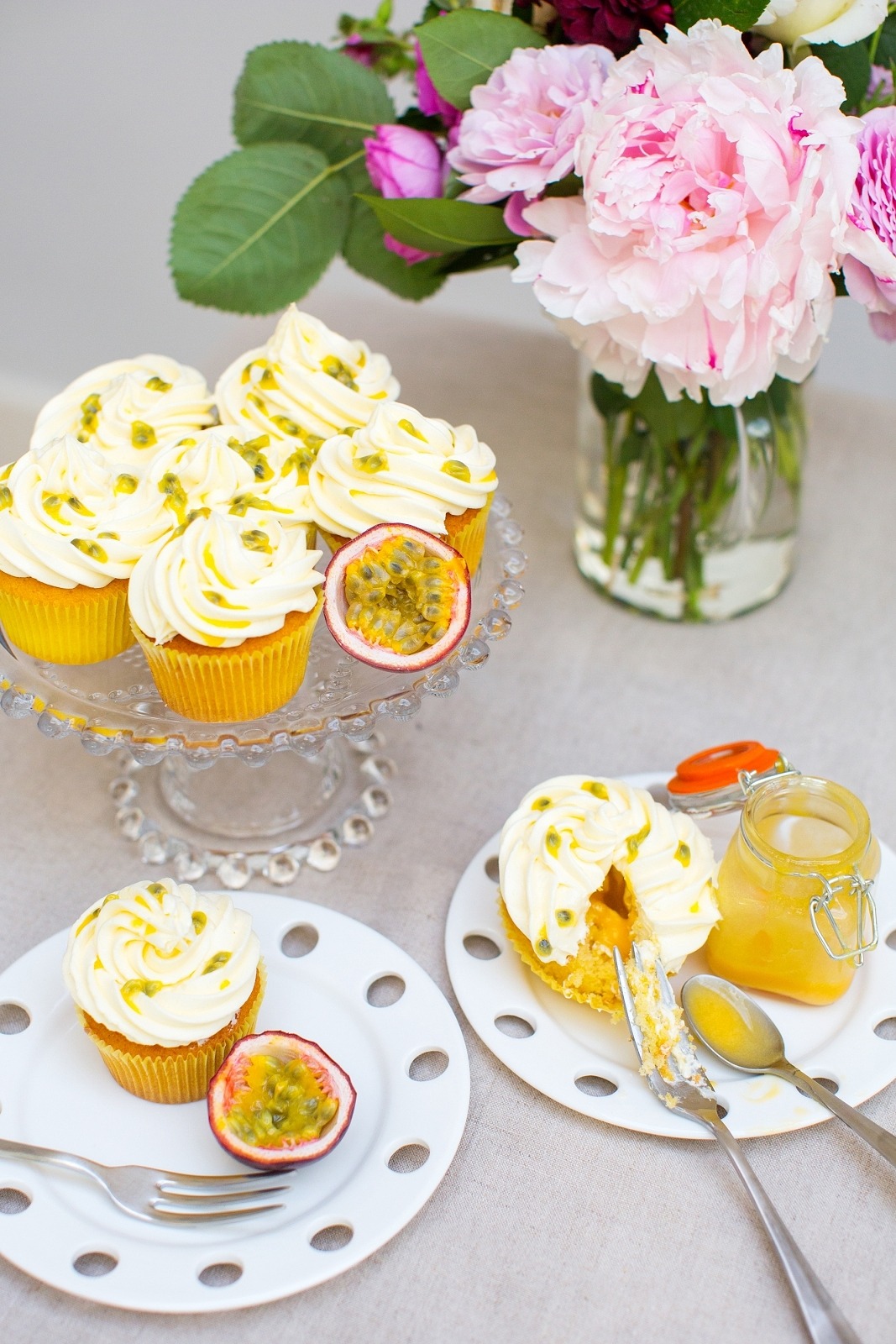 Makes 12
Cake
115g Butter
115g Caster Sugar
115g Self Raising Flour
2 Eggs
Curd
60ml Passion Fruit Juice
10ml Lemon Juice
2 Eggs
100g Caster Sugar
100g Butter
Frosting
150g Butter
260g Icing Sugar
2 Tbsp Passion Fruit Juice
One Passion Fruit of Pulp to Decorate

Begin by preparing the Curd. In a heat proof bowl beat the Eggs and Sugar until lightly foamy. Add the juices and beat again.
Bring a pan of water to a simmer. Place the bowl over the top (ensuring it doesnt touch the water).
Continue whisking until the sauce begins to thicken. It should coat the back of your spoon when it is done. Remove it from the heat and whisk in the Butter in small cubes, one at a time.
Allow to cool with cling on the top to prevent a skin from forming.
Now make the Cakes. Preheat the Oven to 180°C.
Cream the Butter and Sugar together until pale and fluffy.
Beat in the Eggs, and then sift the Flour and fold it into the mix.
Pour the mix into 12 cupcake cases and bake for 10-15mins or until golden and springy.
Make the Frosting by beating the Icing Sugar and Butter together until light and fluffy, then add the juice whisk until combined.
To assemble the Cupcakes, cut the centre of the cakes out with a knife, approximately the size of a cherry tomato.
Pour the Curd into this hole.
Pipe or smear with a mini spatular the frosting on the top.
Finish with a sprinkle of Passion fruit pulp.