---
When I visited Hanoi I ate the most delicious Bun Cha on a street stall. The people were so lovely they showed my how to layer the elements in my dish.  This recipe was inspired by that meal. Although its not at all proper Bun Cha its yummy and the easy to try at home to get an idea of what the real thing is like.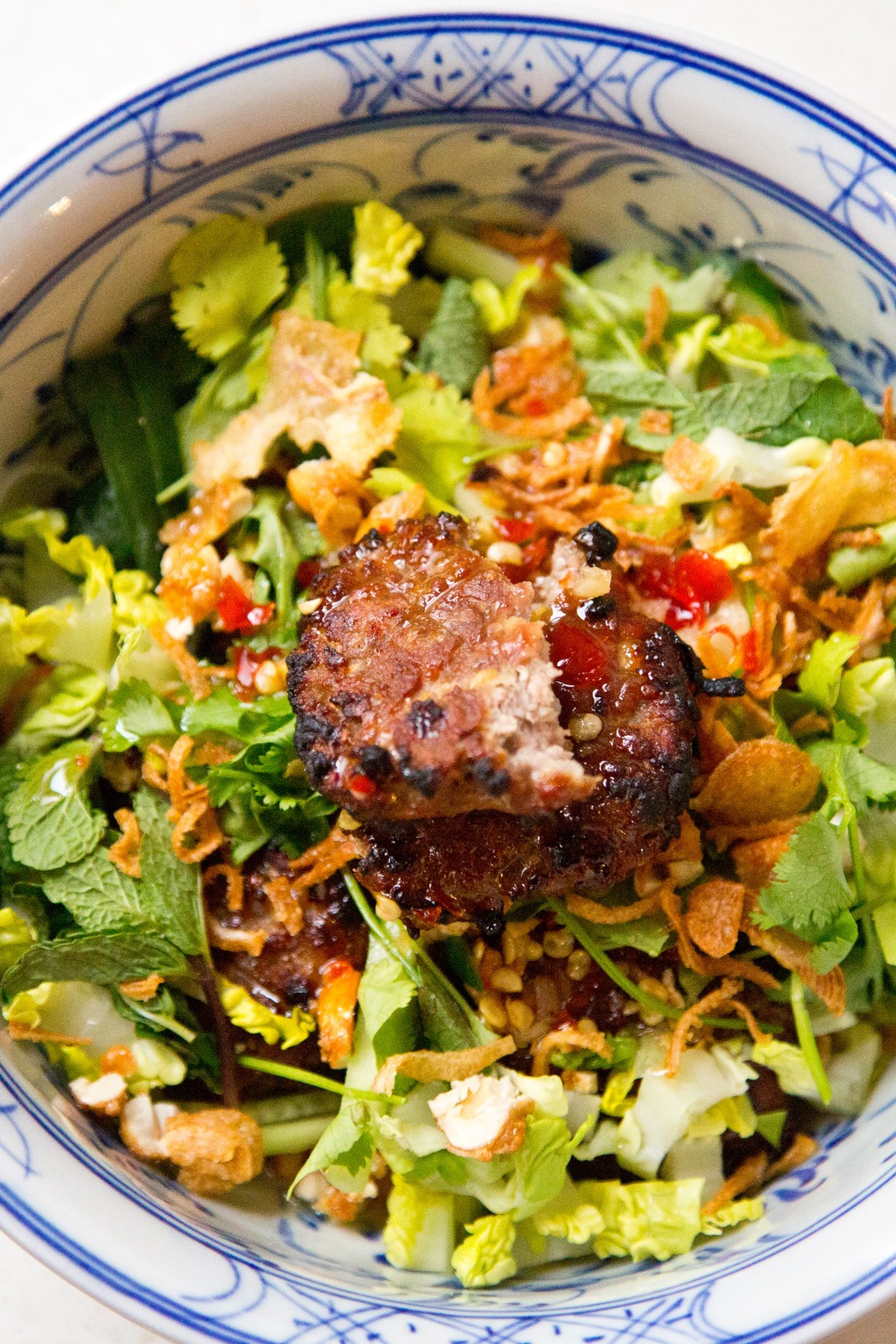 Print
To make the Pattys
500g Pork mince
4 charlottes, finely chopped
1 tbsp brown sugar
salt and celery salt
fish sauce
2 cloves of garlic, crushed
Pinch of Chinese 5 spice
To make the Soup
500ml chicken Stock
200 ml water
1 carrot, in small chunks
1 rounded tbsp sushi ginger
1 tbsp fish sause
1 tbsp brown sugar
1 inch knob of fresh ginger, grated
Toppings
Half a small cucumber, gullianed
50g Nuts (peanuts or honey roast cashew
mint
coriander
mini jem heart lettuce, sliced
large carrot, sliced
fried Onions (shop bought work fine)
packet of rice noodles

Mix the Pork with charlottes,  sugar, salts, fish sauce, garlic and 5 spice.
Divide the mix into 12 patties and shape into balls. Set aside.
To make the soup base, mix the chicken stock, water, carrot,sushi ginger, fish sauce, brown sugar and fresh ginger. Bring to the boil mixing and reduce to a simmer while you cook the patties.
If you dont have a metal cage like mine you can fry your patties, like little burgers or you can grill them in the cages as I have or outside them.  You shoudl rotate them every 5 mins until they are beginning to char. This should take around 20mins or less.
Then combine the various asepects in bowls. I think its nice to lay out all the options on the table and let people do it themselves.