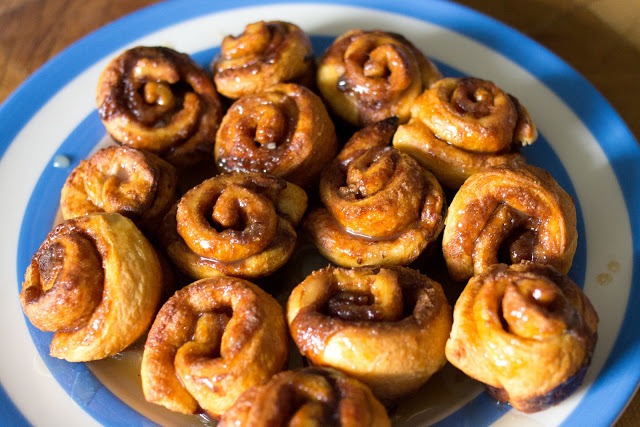 ---
This really is a super easy recipe, that is really quick and yummy. Great for when you have a last minute bake day panic.  This recipe was adapted from a wonderful one by
Iowa Girl Eats.
Print
1 Packet Croissant dough
1-2 tbsp Ground Cinnamon
2 tbsp Dark Muscovado Sugar
3 tbsp Light Brown Sugar
Melted tbsp Butter
1 tbsp Maple Syrup
1tsp Milk
3-4 tbsp Icing Sugar

Preheat the oven to 180ºC.
Pinch dough back together along seams.
Re-roll lightly.
Brush with melted butter.
Sprinkle desired cinnamon.
Then sprinkle the two types of sugar.
Roll into sausages of desired size and slice to desired width (remembering the dough will enlarge and puff up during cooking).
Butter cupcake tray and fill with sliced wheels.
Bake for 10 mins (watch like a hawk they can over cook very quickly and sugar will start to burn).
Remove from tray and allow to cool.
Mix the maple syrup, milk and icing sugar together and then spoon over the top on a serving plate.