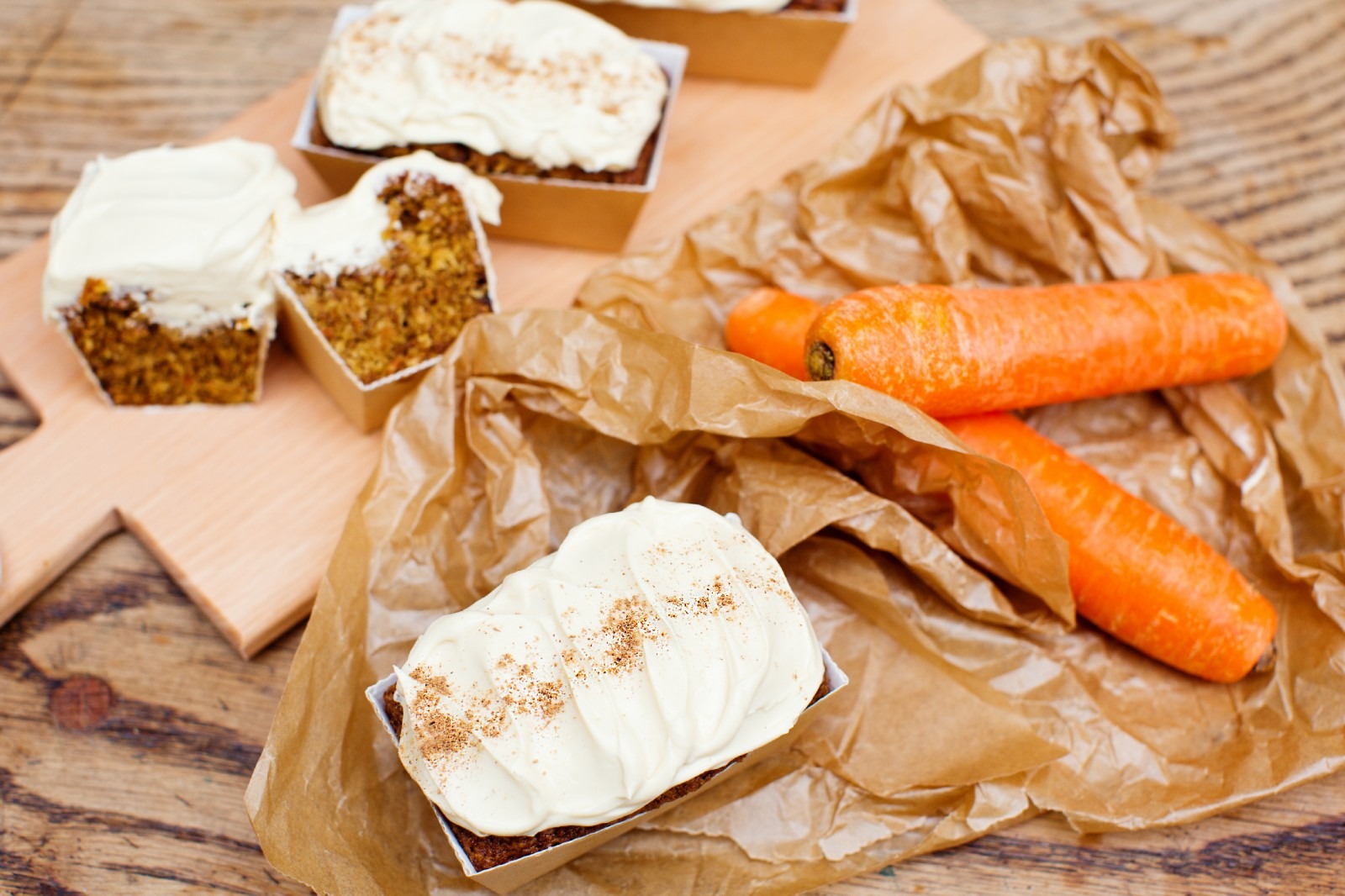 ---
When I was growing up this was my favourite cake. I used to beg my mother to make it. Cream Cheese frosting has since been acknowledged as the greatest of the butter creams (with the advent of the
Red Velvet
 Cupcake) but when I was a child, you only got it with Carrot Cake. Fortunately my mother never scripted on the frosting so I was always satisfied. I think it's only as I have got older that I have realised how amazing this Carrot Cake recipe is, for the cake as well. So I wanted to share it with you. This recipe is very moist, flavourful and rich, there isn't a whiff of nasty dry raisins that we all associate with bad Carrot Cake. I promise you will love this version.
Cake
3 Eggs
180 ml Sunflower Oil
2 tsp Vanilla Essence
60ml Sour Cream
170g Muscovado Sugar
170g Soft Brown Sugar
250g Wholemeal Flour
1 tsp Nutmeg
2 tsp Cinnamon
1 tsp Bicarbonate of Soda
Pinch of Salt
300g Grated Carrot
85g Desiccated Coconut
Frosting
120g Full Fat Soft Cream Cheese (room temp)
60g Unsalted Butter (room temp)
60g Icing Sugar
Juice of ½ a Lemon
Makes 12 Mini Loaves
(Also makes a standard 23cm Cake Tin)

For the Cake
Beat together the Eggs, Sunflower Oil, Vanilla and Sour Cream until fully blended and lighter.
Now add the Sugars and beat well. The mix should get lighter like a normal creaming process.
Sift the Flour, Spices, Salt and Bicarb and fold into the mix.
Finally fold in the Carrot and Coconut.
Pour into your cake tin and bake for an hour and a half to two hours at 150ºC.
The cake is down when a skewer comes out clean (but don't over bake!). While the cake is cooling on a rack make the frosting.
For the Frosting
Make sure the Butter and Cream Cheese is all at room temperature (if it isn't they will never mx completely together and you will end up with lumps of butter in the frosting).
Beat the Butter, when it has got a bit paler and lighter, add the Cream Cheese and blend together.
Then add the Icing Sugar. I wrap a tea towel around the mixer to stop the storm of sugar exploding all over my kitchen!
When blended add the Lemon Juice, mix throughout and refrigerate until ready to ice the cakes.
Load the cakes up with plenty of frosting (it's everyone's favourite bit!).