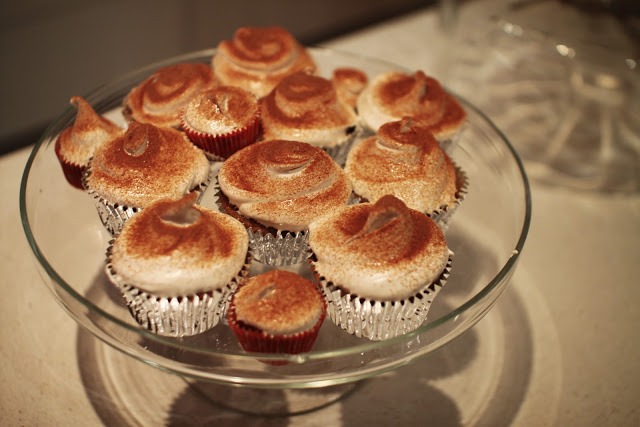 ---
I had my eye on this recipe for a while, and I have to say I wasn't at all disappointed.  If like me you love Horlicks and Ovaltine, as well as SuperMalt, you will love these cupcakes.   In the pictures above I tried to capture the way I apply frosting to cupcakes.  I hope this helps, it is a simple technique and really good if your not much with a piping bag.  This recipe is based on the Primrose Bakery cookbook.
Marshmallow Frosting
120g Granulated Sugar
80g Golden Syrup
1 half tbsp Water
2 Lare Egg Whites
Half tsp Vanilla Extract
Malted Cupcakes
Makes 12
110g Butter
120g Light Soft Brown Sugar
100g Caster Sugar
2 Large Eggs
125g Self Raising Flour
60g Plain Flour
50g Ovaltine powder
124ml Semi Skimmed Milk
Half tsp Vanilla Extract
1 tbsp Sour Cream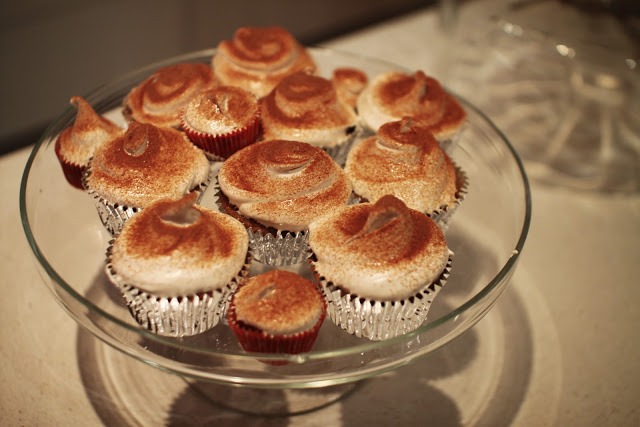 Bake
Preheat oven to 180 C.
Line muffin tray with 12 cupcake cases.
Cream butter and sugars until very pale and fluffy (as I always say really go for it at this stage).
Add eggs one at a time, beating in between.
Combine flours and Ovaltine and sift into a separate bowl.
Mix milk, vanilla, and sour cream in a jug.
Now add a third of the flour mix to the creamed butter and sugar.  When this is combined do the same with the milk mix.  Repeat until all the ingredients are mixed.
Spoon into cases. I use an ice cream scoop to get an even batch.
Bake for 25 mins or until the cupcakes are slightly raised and golden brown.
Leave in the tins to cool for 10mins and then remove to cooling rack.
Frost
Heat the sugar, syrup and water over a high heat until the mixture reaches soft-ball stage (115 C), this should take about 6mins.
Meanwhile whisk the egg whites until soft peaks form, while still beating at a low speed pour the hot sugar syrup into the egg whites as a steady stream.  Continue beating on low till all the sugar mix is combined with the egg whites.
Then increase the speed to medium/high and continue beating the mixture until it becomes thick and glossy, it should also cool down.  Once cool add the vanilla extract, beat till combined.
Ice the cool cupcakes and then sift Ovaltine powder over the top for decoration.