---
These little treats are a real crowd pleaser. They are so pretty and yet a wonderfully simple solution for pudding, canapés and tea parties. The beauty of these is that you can make them in a variation of sizes.
I have gone for long fingers here, but for canapés you would make small cubes and for pudding you could make one large one. There are also a lot of option for the filling. I have used sweetened whipped cream, but you could use a vanilla or chocolate creme patissiere or mousse of any variety from matcha to pistachio to raspberry or white chocolate.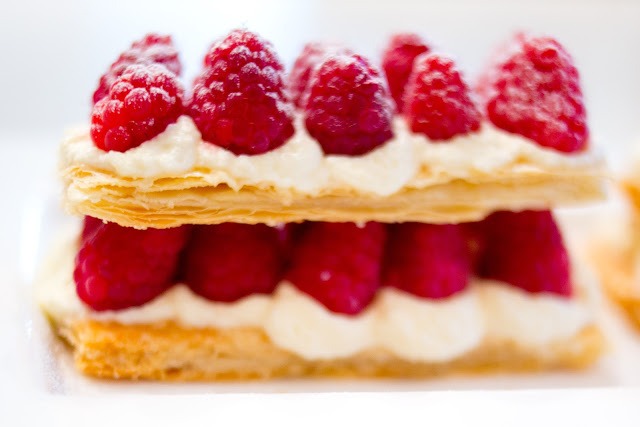 Print
A packet of All Butter Puff Pastry (obviously you can make it too, see here)
Two Punnets of Berries of your choice – here I have used raspberries and blackberries
1 cup of Fresh Cream
2 tbsp of Icing Sugar
Preheat your oven to 200oC
Roll out your pastry to about half a centimetre thick. Place it on a non-stick baking sheet, and lay another non stick sheet right side down on the pastry on the top. This stops the pastry from rising too much.
Bake in the oven for 25 mins or until it is golden and crisp.
Remove the sheets onto a chopping board and take a very sharp knife while the pastry is still hot, and cut it into the desired shapes and trim the edges.  You will need at least two of each shape to stack on top of each other. If you are making one big one you will only need to cut it in half and trim the edges so you have nice clean sharp ones. Place them on a cooling rack to cool and crisp.
In the meantime, whisk the cream and icing sugar to a piping consistency, the trick with this is to do it under and then just one whip at a time to avoid over whipping and the cream separating which although edible is not pretty. Remember that the cream will keep whipping after you stop, so always do less not more.
Place the cream in a pipping bag and cut a 1cm tip of the end. I don't use a piping nose for this but you can if you like.  I open the bag and place it in a jug turning the bag over the top of the jug to make sure you don't get cream all over the outside of the bag.
Take your first piece of pastry and your serving plate, put a small blob of cream on the plate where you want the pastry to sit, then place the pastry on the top, this will stop it slipping all over the plate.
You just want to pipe the cream where you will be putting the berries, so if you want six berries in two rows make six balls of cream in that formation. Add the berries to the top.
Take the next piece of pastry and repeat the cream (or you can use do two lines). Then place it on top of the berries, and repeat the process you did to the layer below.
When you have topped it off with berries you can sprinkle some icing sugar or mint leaves for decoration.
You should eat these as soon as possible to get the wonderful crunch and soft textures.