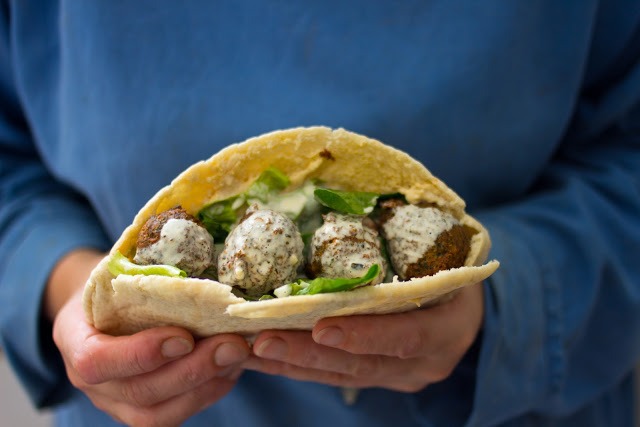 ---
I love Falafel.  I think it is the yummiest vegetarian thing you can eat.  Hot, herby and fried.  This recipe is based on one I found on FoodGawker from a blog called Just a Taste... 
HERE!
  I adapted it, inspired by the wonderful and yet unbeaten Falafel King, based on Portobello Road (amongst other places).
Print
Falafel
2 cups Onion (chopped)
6 garlic Cloves (crushed)
2 cups Tinned Chickpeas (drained)
2 cup Parsley 
2 cup Cilantro
1 tsp Salt
¼ tsp Chili Powder
2 tsp Cumin
2 tsp Baking Powder
½ cup Plain Flour
Tahini Sauce
1¼ cups Yoghurt
¼ cup Tahini
2 tbsp Lemon Juice
Lots of Salt and Pepper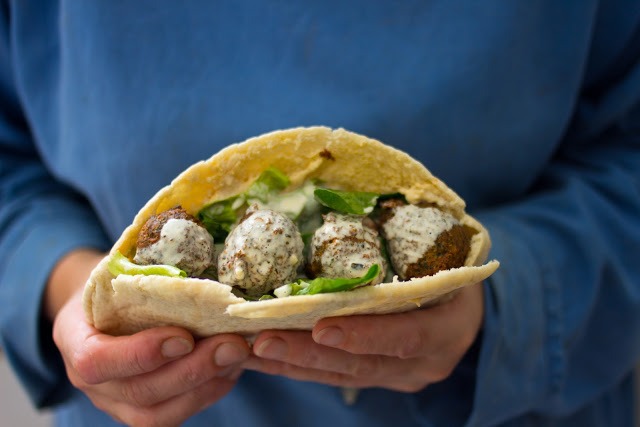 For the Mix
Add the Onion, Garlic, Herbs and Spices to a food processor and blitz until farley fine.
Add the chickpeas and blitz to mix, making sure the herbs are even throughout the mix before adding the Flour and Baking Powder gradually, blitzing in-between, you are aiming for a ball of mix which isn't too stick. Stop adding flour when you achieve this. Transfer the mix to a bowl and refrigerate for an hour.
Meanwhile make the Tahini sauce my mixing together all the ingredients.
Heat sunflower oil (I use a deep fat fryer), then taking a ice-cream scoop make compact little balls of the Falafel mix. Fry them in batches of 5 or 6. Until golden brown, around 6-7 mins.
Cooling the mix is very important, otherwise the balls with burst open in the fryer. The key it to make sure they are cool and tightly packed, otherwise the air pockets will open in the fryer making a big mess.



Serve with
I also made a salad to go in the warm pitta.
I love the salad they stuff in at Falafel King, so I made my own version… using flat leaf parsley, tomatoes, cucumber with some white balsamic vinegar, nut oil, sugar and lots of salt and pepper.
This works just as well as a canape with the sauce as a dip, use a melon baller to get smaller Falafels.  So make some this festive season!