---
I have fed these to people of every walk of life, they are all united in telling me that they are the best scotch eggs they have ever had. They make the prettiest canapés but also work beautifully for lunch. The black pudding makes them slightly more rich but isn't over powering. The meat is completely melt-in-the-mouth moist.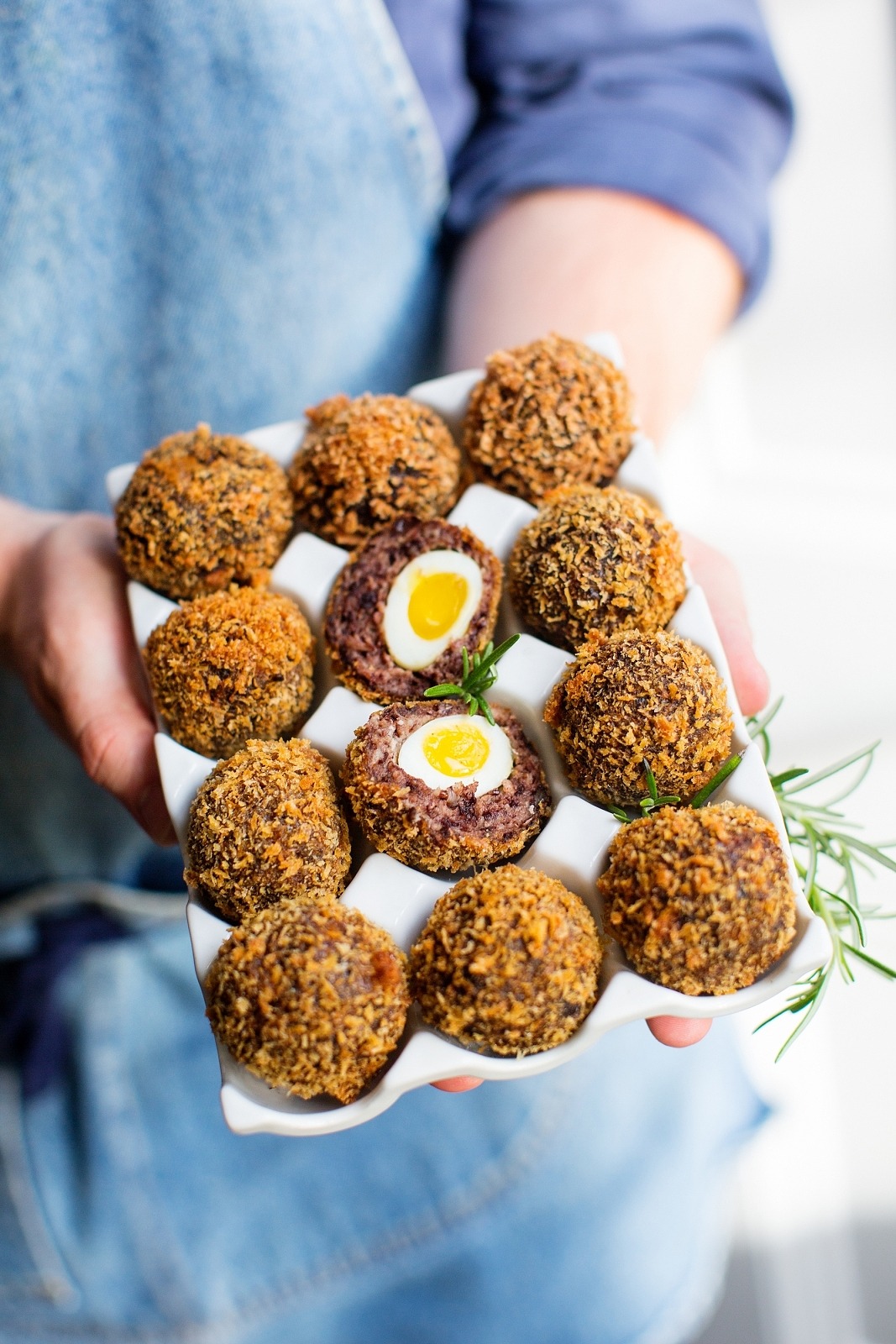 Makes 12 Quails Eggs
180g Black Pudding
180g Susage Meat
(You need 30g per egg of the meat mix)
12 Quails Eggs
Salt and Pepper
1 Egg, beaten
1 cup Breadcrumbs
Bring a pan of water to a rolling boil.
Add the Quails Eggs with a slotted spoon, making sure none crack.
Cook for 2 mins for a soft boil.
Plunge the Eggs into ice water to cool.
Peel all the Eggs, rinse in water and pat dry.
In a large boil combine throughly the Black Pudding and Sausage Meat with plenty of Salt and Pepper.
Beat an Egg in a bowl and prepare your Breadcrumbs in another, seasoning both well with Salt and Pepper.
Turn your deepfat fryer on to 180°C (or heat a pan of oil deep enough for the eggs to be covered completely).
Taking a large tbsp of Meat flatten it in your hand into a ruff rectangular patty about 0.5cm thick. Place the egg in the middle and carefully wrap the meat around to cover it completely. Making sure not to pop the soft boiled egg inside, firmly seal the meat on itself to ensure there are no gaps or holes.
Roll the meat covered quails egg in the beaten egg, allowing the access to drip off, then roll and press the breadcrumbs on. Set aside ready for frying.
Repeat with all your eggs.
Add the eggs 4 at a time to your fryer – they should not touch and should be submerged.
The eggs will need cooking until golden brown. This will take about 12-18mins.
Serve immediately sliced in half to expose the runny yolk inside! I love them with onion marmalade.






You can make large batched of these in advance and refrigerate them.
To reheat them, place them in an 190°C oven for 5mins.