---
This Ginger Cake is family favourite, it's warm in the winter with the heat from the pepper and the ginger, and works wonderfully for pudding or tea. With the addition of the two toppings it's a lovely festive cake which looks beautiful on the table too.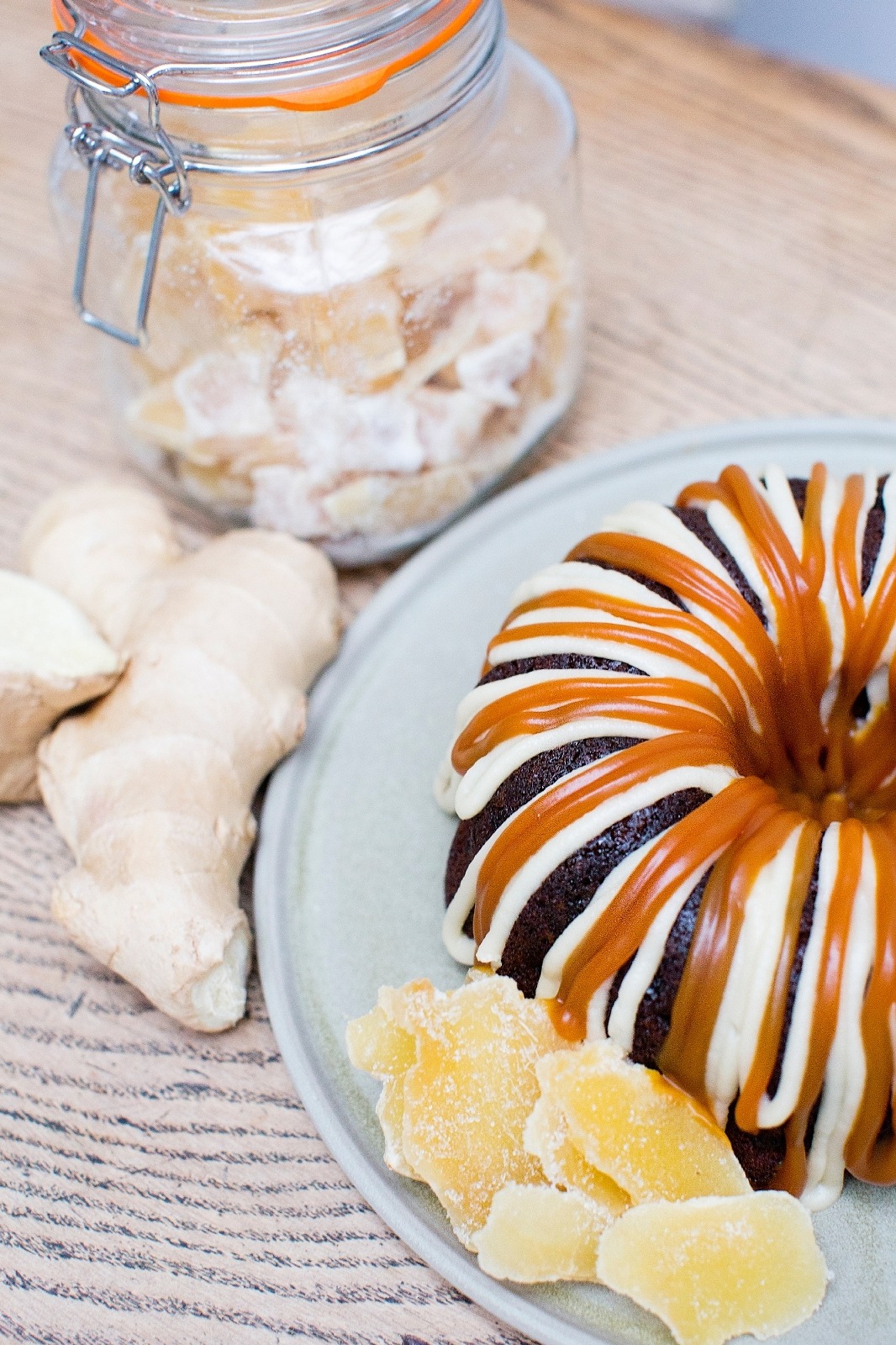 Ginger Cake
100g Self Raising Flour
2 tsp Cinnamon
1 tsp Ground Ginger
Pinch of Ground Cloves
Generous Grating of Nutmeg
1 tsp Bicarbonate of Soda
100g Soft Brown Sugar
1 Large Egg
150ml Milk
75g Black Treacle
50g Melted Butter
1 Orange's Zest
6 Pieces of Preserved Ginger
75g Raisins
½ tsp Black Pepper
Salted Caramel Sauce
100g Caster Sugar
75ml Double Cream
25g Rough Salted Butter
or
25g Unsalted Butter
½ tsp of Salt Flakes or Rough Crushed Rock Salt
Maple Glaze Icing
1 Cup of Icing Sugar
3-5 Tbsp Milk or Cream
6 Tbsp Maple Syrup

For the Cake
Preheat the oven to 180°C.
Grease your Bundt tin well with Butter.
Sieve all the dry ingredients together, make a well in the middle.
Add the Egg, Milk, Treacle, Melted Butter and Orange Zest and beat well.
Chop the Ginger into small rough pieces.
Stir in the Raisins and Ginger.
Pour into the cake tin and smooth off.
Bake for 30-35mins.
The cake is dark when cooked so put a  skewer into the cake to check it's cooked. You want it to be nice and moist so a tiny bit of wet crumb on it is perfect.
Allow to cool for 30mins in the tin then turn in onto a rack.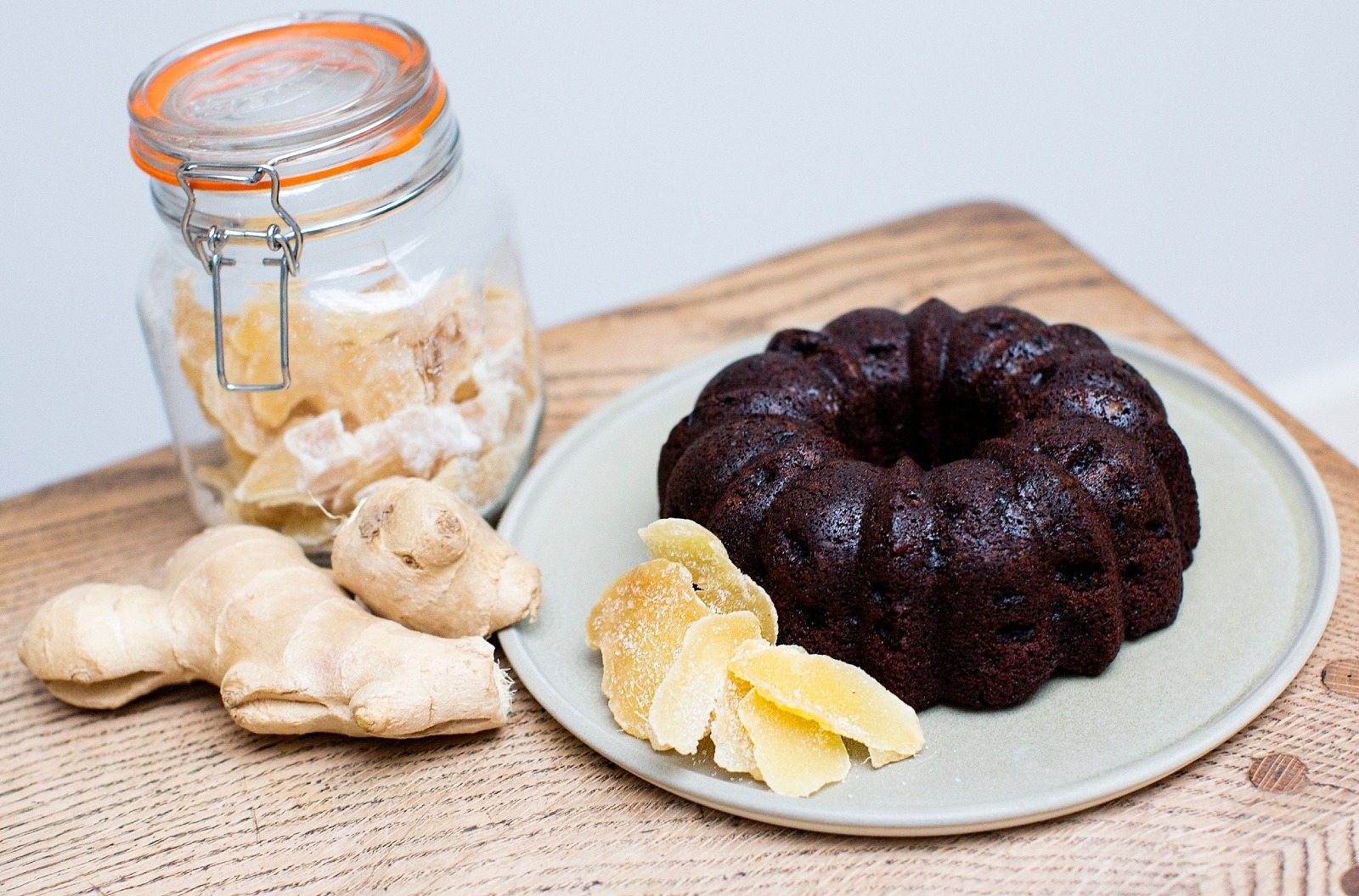 Originally my mother always served this cake without any icing. We would have thick slices with salted butter, custard or clotted cream. It is delicious like that and I highly recommend it. In fact I made little loaves of them like this for Christmas this year and sent them as presents to people in little bags.
For a party and a final flourish I have added the following toppings which are really fun and delicious.
Maple Glaze Icing
Combine the Icing Sugar, Maple Syrup and a tbsp of Milk at a time to a bowl and whisk until smooth.
Add more Milk if needed to get a smooth but thick constancy.
Salted Caramel Sauce
Place the Sugar in a heavy base pan over a low heat.
Melt the sugar (try not to touch it as it melts, just move the pan around) it should be a light brown and bubble only slightly.
Remove from the heat and add the Butter, stir constantly unlit incorporated.
Then add the Cream and stir until smooth and glossy.
Transfer into a bowl to cool.

Pipe
Add both icings to piping bags and use scissors to cut off a small end. There is no need for a piping nozzle.
Starting with the Maple, pipe the sauce in lines up and down the Bundt, allowing it to fall a bit randomly and luxuriously.
Follow with the Caramel in the same way.
Add a few pieces of Crystallised Ginger to decorate.